Spectacular setting
A rugged landscape, steep vineyards, spectacular views – these form the geographic setting of Bodegas Bentomiz. Sheltered by the Sierra Tejeda mountains to the north, with the Mediterranean Sea to the south, nature provides the perfect conditions for winemaking – as well as for a relaxing afternoon with a glass of wine in your hand.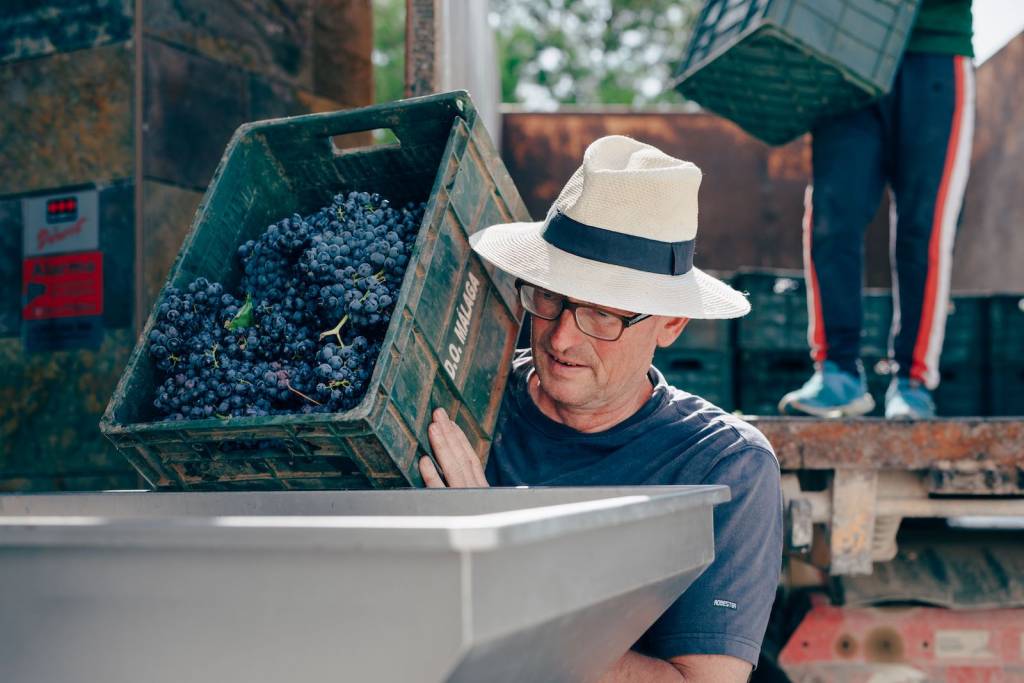 A heroic effort
Our 80 to 100-year-old vines flourish in slate soils at heights of between 500m and 800m above sea level. There are just sufficient winter rains; we enjoy a precipitation of about 500 mm a year. In our long, dry summers, the heat is softened by sea breezes. The rugged landscape is not easy to work – mechanisation is not possible and hoeing and harvesting the steep slopes requires a truly heroic effort.
The vines are maintained as 'bush vines': we trim the previous year's shoots off at the end of the winter so that the new sprouts grow into branches with leaves that form a bush and provide the fruit with an essential shade. Our humidity is so low that the grapes can ripen on the ground without any risk of rot.
Our Wine-making Methods
Experimenting with a combination of modern and traditional vinification techniques has proved successful. To obtain the perfect balance of sweetness and acidity we sun-dry the grapes after picking, either by laying the bunches in the local 'paseros' (raisin-beds) or on floating racks, our own invention, which allow air to move over and under the fruit. When the racks are laid in our forecourt the bodega seems afloat in a sea of grapes!
Our wines are fermented in stainless-steel, temperature controlled tanks. We age some in oak barrels; others are aged 'on the lees' in stainless-steel tanks.
Natural Balance
We do not fortify our sweet wine range, preferring to stop fermentation with a cold-shock treatment, thus keeping the wine naturally sweet (unfortified). This method is time-consuming and labour-intensive, but the freshness of our dessert wines make the effort worthwhile.
It is this balance between traditional and modern, and our hands-on approach that has allowed us to produce an exceptional range of fresh, delicate, elegant wines.
Over 20 Michelin-starred restaurants in Europe serve the Ariyanas wines. These include El Celler de Can Roca, De Karmeliet, SantCeloni, Ramon Freixa, Enoteca Paco Pérez, and De Kromme Watergang.
Tours, tastings & lunches